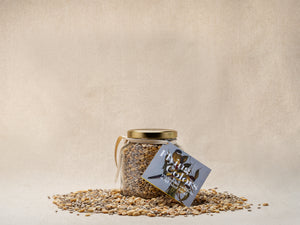 A taste of our premium organic wild bird seed, the perfect gift for every veteran bird-lover or aspiring birder in your life.
Choose from three custom blends — all 100% USDA certified organic ingredients and hand-mixed with love in New York's Hudson Valley. Packaged in on a beautiful (and reusable) glass jar, with FREE shipping.
Our pure & wholesome recipes have been lab-tested and biologist-approved to attract and nourish a wide variety of wild birds and can be used in any feeder style.  
Millbrook "No-Mess" Blend
Our premium blend for purists who don't like to fuss with hulls & seed remnants. This blend is a clean and nutritious mix of nuts & seeds with their hulls removed, so there's never any mess from empty shells in your feeder or on the ground to worry about. This blend includes sunflower hearts, peanut hearts, and husk-free millet.
Pine Plains Original Blend
This is the blend that started it all. Surprise and delight your backyard flying friends with our very own mix of healthy nuts & seeds perfect for everyday nutrition: black oil sunflower, peanut hearts, safflower, and millet.
Woodstock "Hempy" Blend
Our most forward-thinking blend yet. For those who want it all, enjoy this tasty and nourishing blend combining superior & healthy ingredients that birds love: black oil sunflower, hemp, millet, and safflower.
Our 1/2 Gallon jars carry ~3 lbs of seed and are 100% recyclable glass (and plastic-free).