Introducing the healthiest bird seed on the market.
Ethically sourced, pesticide-free seeds & nuts of the highest quality to safely nourish wild birds of all types. Produced with love & blended by hand in small batches in New York's Hudson Valley.
Explore our creations
Meet The Carton, our champion bestseller
Choose from our custom blends — all with 100% USDA certified organic ingredients. Packaged in a pourable (and recyclable) carton we designed ourselves.
Shop The Carton
Flying Colors Featured in Audubon Magazine
"Matthew, Whitney, and Stetson cofounded the company in 2020 when they struggled to find organic seed options. The trio created the product, which comes in a recyclable carton, with friends & peers in mind — millennials who reached adulthood amid the climate crisis. But as they discovered, their product appealed to people of all ages."
All Natural, USDA Organic & Non-GMO Ingredients
We are proud of our stringent standards and only work with the best. Our farm-harvested seeds & nuts are grown without toxic chemicals, pesticides, or insecticides. Just as you care about what you feed yourself, it's worth considering what you feed your backyard birds too.
Nutritious Specialty Blends & Single Origin Creations (With Zero Fillers)
We source the best ingredients birds love from a handful of producers, and then blend them ourselves. We never use wasteful fillers, and we certainly don't let any twigs, stones, or moldy seeds get into our batches (unlike most other brands).
Handcrafted in Small Batches with Packaging You'll Actually Reuse
Every batch is blended, packaged, inspected, and numbered by hand right here in New York's Hudson Valley by our team of bird lovers. We avoid plastics at all costs, and prefer recyclables like glass and cardboard. We want you to be proud of our product, which is why it looks great on a kitchen shelf or wherever you decide to keep it.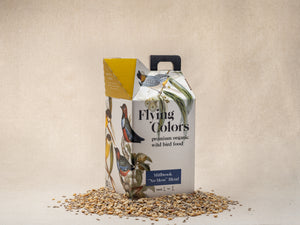 The Carton
Sale price Price $69.00 Regular price Unit price / per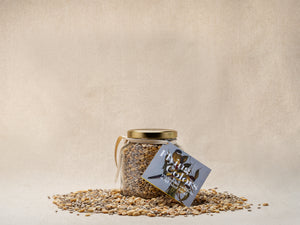 The Jar
Sale price Price $25.00 Regular price Unit price / per
We are a team of bird lovers, working closely with seed experts, ecologists, and ornithologists to bring you the best wild bird food on the market.
Our speciality blends and single origin creations are carefully considered, researched, and produced to ensure the highest quality.
Every batch is tested in our own backyards to ensure that birds love it.
Now available for wholesale and bulk quantities
We are excited to work with retailers, distributors, and partners large and small who want to stock our product to help their customers and communities do right by their backyard birds.
Let us know if you would like to become a commercial client. We would love for you to join the Flying Colors community and be a part of our mission to bring healthy, ethical, and high quality food to wild birds everywhere.
Let's Talk